Contract Manager (m/w/d)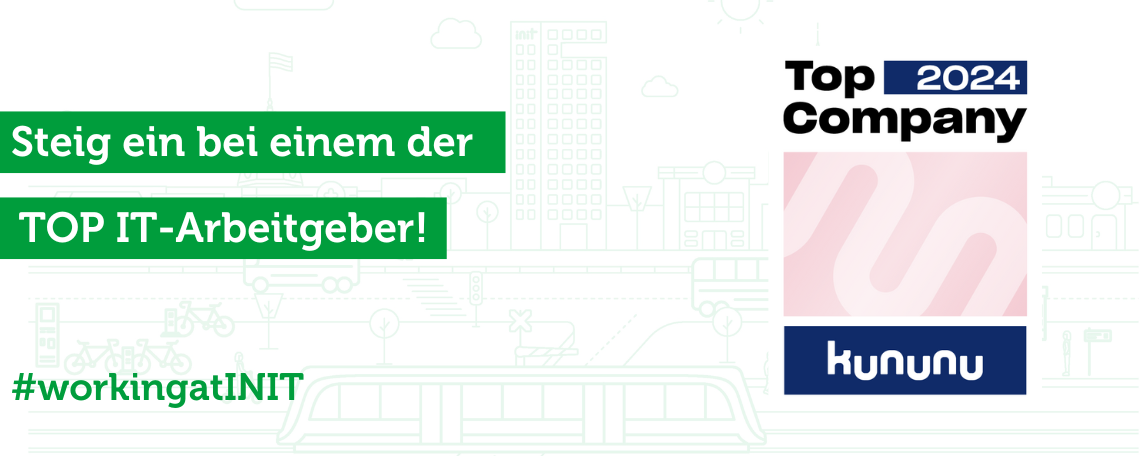 Über uns:
Shaping the Future of Mobility – together!
Gemeinsam leisten wir einen wichtigen Beitrag für die Zukunft der Mobilität und gestalten den Öffentlichen Personennahverkehr von Morgen. Klingt interessant? Erfahre mehr auf unserer Homepage -
www.initse.com
Du übernimmst gerne Verantwortung und hast als Kommunikationstalent Freude am Umgang mit unterschiedlichsten Charakteren? Du wünschst Dir abwechslungsreiche Aufgaben im Teamumfeld anstatt Alltagsroutine in starren Hierarchien?
Dann bist Du bei uns im Proposal Management genau richtig! Wir bieten Dir eine spannende und abwechslungsreiche Tätigkeit in einem nationalen wie auch internationalen Arbeitsumfeld. IT-Lösungen für Bus und Bahn ist eine DER Zukunftsbranchen und absolut krisensicher. Wir gestalten die nachhaltige Mobilität von morgen! Wir freuen uns auf Dich!
Darauf kannst Du Dich u.a. bei uns freuen:
Flexible Arbeitszeiten und Option "Mobile Office"
30 Tage Urlaub und die Möglichkeit auf 5 zusätzliche Tage "Flexi-Urlaub"
Gaming Zone, Massagesessel und Creative Area 
Finanzielle Zusatzleistungen für u.a. Fahrtkosten und Kinderbetreuung 
Aktuelles Smartphone (Android/iOS) zur beruflichen & privaten Nutzung
Das erwartet Dich:
Das Sinnstiftende als Contract Manager*in ist es, dass Du mit deinem Engagement maßgeblich einen Teil der Zukunft des ÖPNV mitgestaltest und dadurch einen wichtigen Teil zum Erfolg unserer Unternehmensgruppe beiträgst. 
Eingebettet in das Proposal Management erstellst und verhandelst Du Wartungsverträge und SLAs
Du verantwortest von Anfang ein Themenfeld mit einer der größten Wertschöpfungen
Dein Zielgebiet sind unsere nationalen und internationalen Kunden
Eine Deiner Kernaufgaben ist das stetige Monitoring unserer laufenden Wartungsverträge
Hierbei giltst du intern und extern als Experte und übernimmst die aktive Kommunikation
Gemeinsam mit dem Controlling und unseren Juristen hast Du die Möglichkeit Prozesse und Standards für die Zukunft zu gestalten
Darüber hinaus bereitest Du die Teilnahme an Angebotspräsentationen und Verhandlungen vor
Gemeinsam mit unseren Account Managern präsentierst Du Deine Angebote beim Kunden und/oder klärst kundenspezifische Sachverhalte
Perspektivisch agierst Du alleinverantwortlich
Das bringst Du mit:
Ein erfolgreich abgeschlossenes kaufmännisches Studium oder vergleichbare Qualifikation
Die aktive Kommunikation mit Kunden fällt Dir leicht
Grundkenntnisse im Vergaberecht und Vertragsrecht sind wünschenswert
Als Organisationstalent mit hoher IT-Affinität fällt es Dir leicht, Dir technisch komplexe Zusammenhänge zu erschließen und Deine Projektmeilensteine in time und quality zu erfüllen
Sichere Anwenderkenntnisse in MS Office (insbesondere in MS Excel)
Fließende Kenntnisse in Deutsch und Englisch (gerne mit Auslandserfahrung)
Standort:
Karlsruhe INIT GmbH
Fragen?
Bei Fragen helfen wir gerne weiter und sind über
jobs@initse.com
oder 0721/6100-0 erreichbar!
Sophia Coveli
HR Recruiter